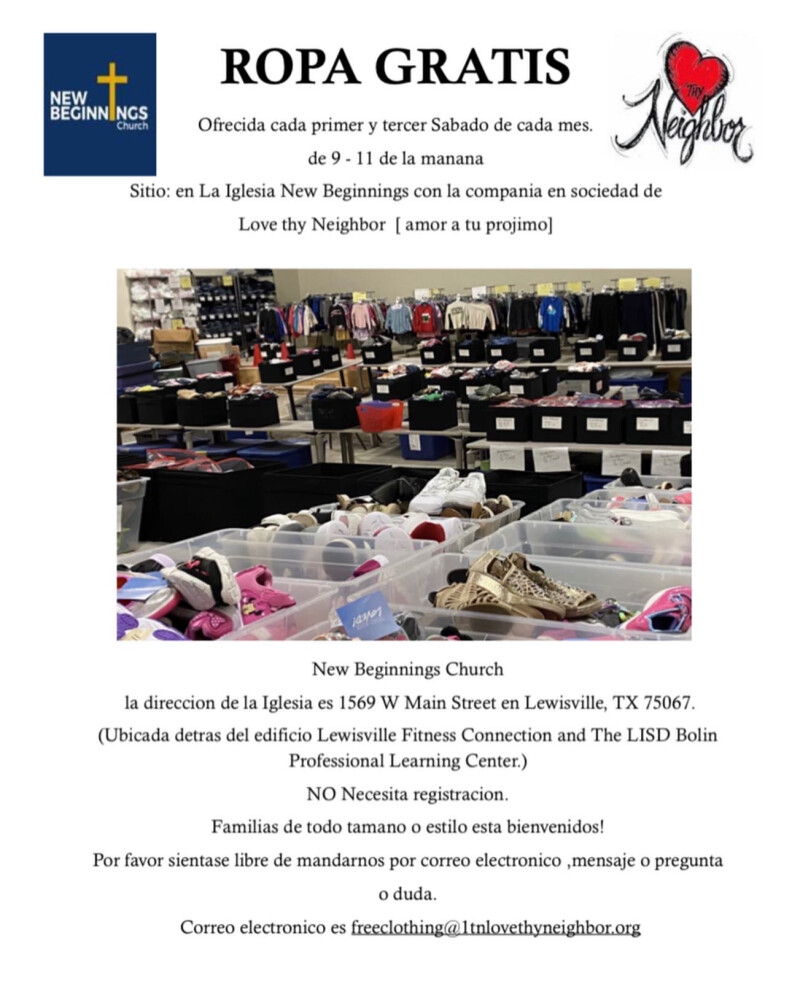 NBC Clothing Closet
Dates: Every 1st & 3rd Saturday of the Month

Where: New Beginnings Church

1569 W. Main Street Lewisville, TX 75067


Our campus has partnered with Love Thy Neighbor to provide free clothing to people in the community.
The Clothing Closet will operate in conjunction with our Food Pantry every 1st & 3rd Saturday of each month.
We have:
children's clothing in all sizes (including children's coats)

men's and women's clothing (limited, but more to come)
We are currently accepting donations for:
unused, packaged socks (men's, women's, and children)

unused, packaged underwear (men's, women's, and children)

toiletries: liquid soap, shampoo, deodorant, and lotions

baby products (diapers, wipes etc.).

laundry detergent
Donations can be dropped off the New Beginnings Church during Food Pantry and Clothing Closet operating hours (every 1st and 3rd Saturday from 9:00 AM – 11:00 AM).
The Clothing Closet will be open to the entire community.
As of right now, no pre-registration is needed, and there are n
o restrictions on family size.
If you have questions or need additional information, please email .